The purchase guidance of Flat Panel Display
Views:6 Author:Peacemounts Electronics Co.,Ltd. Publish Time: 2016-04-01 Origin:Site
Getting Started
One of the perks of a flat-panel television's light weight and thin depth is the ability to mount it directly on a wall in your home. While all flat-panel TVs come with pedestals that allow them to be placed on a TV stand, wall-mounting a TV can save you space and improve the aesthetics of a room. There are quite a few types of wall mounts on the market today, so here's what you'll need to know when deciding on a flat-panel TV mount.
Which Mount is Right for My TV?
To choose the right mount, first decide what kind of movement you'd like your TV to have, or if you'd prefer to mount it in a fixed position. See the next section for the types of motion mounts available. Next, ensure that the mount you purchase is rated for the size and weight of your TV. All major brands will list the suggested weight limits of their mounts. Following these restrictions will keep your mount from sagging under the weight of a TV that's too heavy or, even worse, failing mechanically and causing damage or injury.
Most TV mounts follow compatibility standards set by the Video Electronics Standards Association, or VESA. The VESA mounting pattern is a set of four screw-holes arranged in a rectangle on the back of your TV, and corresonding holes with the same spacing on a wall-mount. This standard ensures that all VESA-compatible TVs and mounts are totally interchangeable. It's a good bet that any TV mount sold today is VESA-compatible, but you should always confirm, just to be sure.
Should I Choose a Fixed or Motion Mount?
Whether to choose a fixed tv mount or moveable mount will depend on your personal preferences, room layout and intended audience of the TV. Each type of mount has its pros and cons. Continue reading for a better description of each type of TV wall mount.
Fixed TV Mounts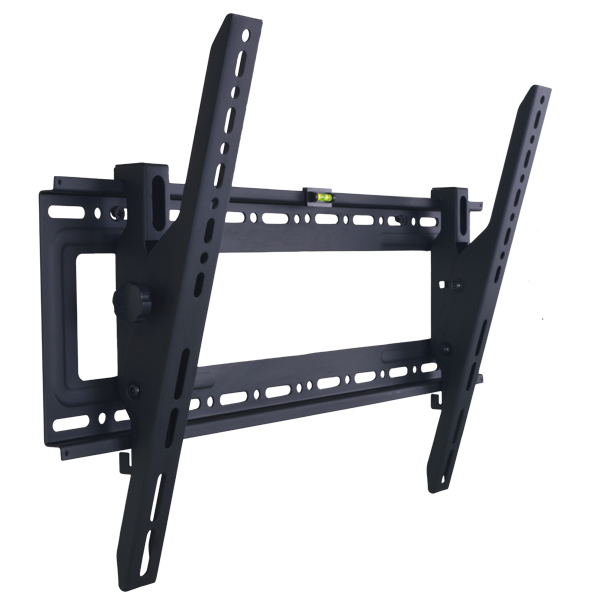 This type of mount holds the TV snug against the wall, flush with the wall. It keeps the TV closer to the wall than any other type of mount, giving a very clean, custom look. However, a fixed TV wall mount offers no position adjustment. These are best for installations where you have total control over the lighting, to avoid glare on the TV screen; and for rooms where people will always be viewing the TV from the same position, ideally positioned centered in front of the TV. These are also the least expensive TV mounts.
Tilting TV Mounts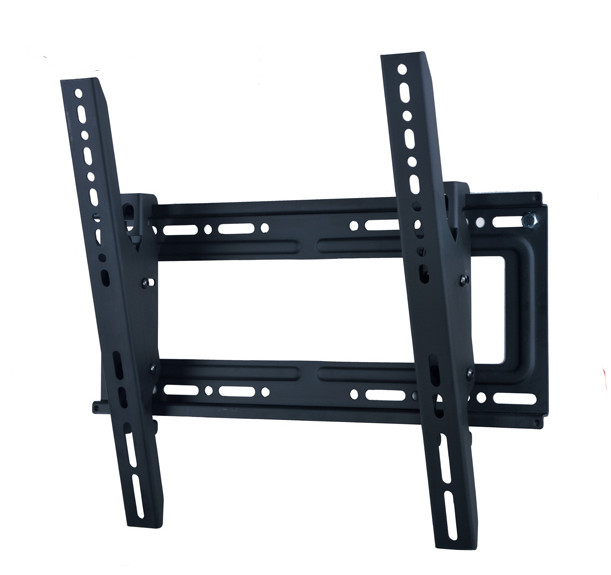 Tilting mounts allow your TV to angle your TV vertically, while maintaining its position on the wall. They do not allow any horizontal movements. A tilting wall mount is recommended for installations where a TV is mounted higher than normal such as over a fireplace allowing you to angle the display down towards the viewers. Tilt adjustment also allows for some control over glare from windows or room lights. The amount of tilt available varies by model, but you can usually expect anywhere from 5-15° of vertical adjustment.
Full-Motion or Articulating TV Mounts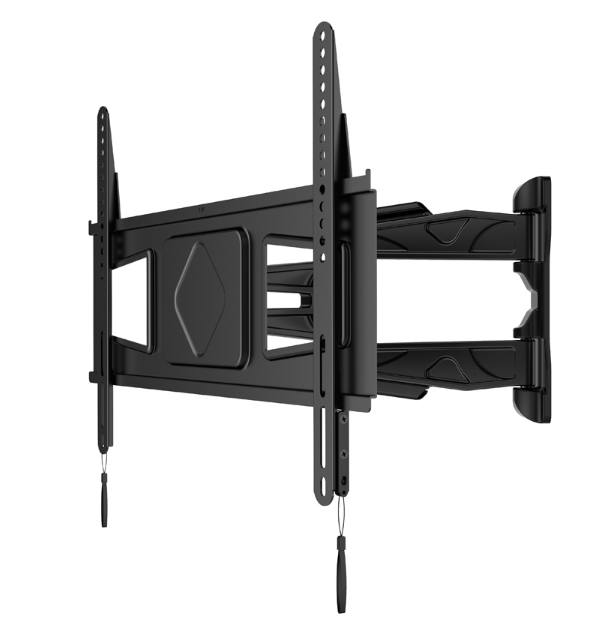 Full motion TV mounts (also called articulating mounts) allow the greatest range of movement for your flat panel TV. An articulated swingarm allows you to move the TV towards or away from the wall, tilt it up or down, and angle it from side to side. Full-motion mounts ensure your TV is always at the perfect viewing angle, perfect for rooms where viewers can sit in a variety of locations, or to combat continuously changing glare in rooms with lots of sun exposure.
A full-motion mount also opens up more creative TV installation possibilities, like hiding your TV into an armoire from which you can easily extend it outwards when you're ready to watch; into a corner; or on a wall that's at an angle to your seating. Remember, when using a full-motion mount, make sure all of your audio and video cables re long enough to reach your TV at maximum extension
Will the Mount Last?
Our manufacturer has make us mounts out of a variety of materials. Steel, aluminum and plastic are all standard building materials utilized by the mount manufacturers. Common sense steel will likely hold up the best over time on a larger TV, but you should feel assured that no matter the materials used, if the mount is UL rated for your TV it should be fine.
Do It Yourself or Have It Installed?
The most important aspect of your flat panel purchase is who will be installing the TV. Most of the wall mounts on the market can be easily installed by 2 relatively handy adults. It is important to read all safety warnings and follow the manufacturer's instructions on which type of screws or bolts to use when installing the TV. It is always a good idea to anchor the TV to studs in the wall, as standard drywall or plaster can weaken over time and cause the TV to fall. If you have any reservations about installing the TV, you should consult a professional installer. If you'd like to install the TV yourself, check out our handy DIY video for help on How to Wall Mount a TV below.
Cables, Wires & What to Do With Them
While installing your TV, you will quickly find a need for wire management on your wall mount. Nothing will ruin the appearance of your install quicker than loose wires hanging down. Some mounts offer channels in the body of the mount where the wires can be run neatly and hidden. While others simply offer clips on the outside of the frame to hold the wires in place. You should check to see if any wire management is included with any mount that you purchase.
The Bottom Line
Once you have determined which mounts will fit the size of your TV you can eliminate all the rest. Then consider the motion option that you think works best for your application and again eliminate the rest. Look at the wire management and ease of install variables to further narrow your choice. Finally, inspect the quality of construction, existence of UL listing and your choice should be complete.