Happy St. Patrick's Day
Views:111 Author:peacemounts Publish Time: 2019-03-17 Origin:Site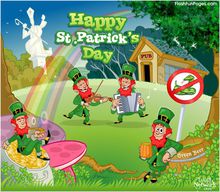 St. Patrick's Day is March 17th of each year to commemorate the Irish patron saint Patrick. The festival originated in Ireland at the end of the 5th century and is now the National Day of Ireland. With the descendants of Ireland all over the world, the St. Patrick's Day has now become a holiday in some countries. The United States celebrated on March 17, 1737. The traditional color of St. Patrick's Day is green.
In recent years, St. Patrick's Day has been familiar and celebrated by more and more Chinese. On the day of the festival, fashion trends in Beijing, Shanghai, Guangzhou, Chengdu, Shenzhen and Xiamen will wear green attire, wear Irish high hats, dress up as a traditional Irishman, and be with friends. Celebrate this fun-filled festival between the streets and the Irish pubs.
St. Patrick's Day originated from an ancient Irish legend. As early as 432 AD, St. Patrick was sent by the Pope to Ireland to persuade the Irish to convert to Christianity. After he landed from Wicklow, the local angry pagans attempted to stone him to death. But St. Patrick was not afraid of danger, and immediately took off a clover, which vividly illustrated the doctrine of the Holy Trinity, the Holy Son, and the Holy Trinity. His eloquent speech made the Irish deeply touched and accepted the grand baptism of his main devotion, and since then he has believed in Catholicism. On March 17, 493, St. Patrick died, and in order to commemorate the saint, the Irish set the day as St. Patrick's Day, which is also regarded as Ireland's National Day.

Every year on March 17th, as an eternal tradition, the Irish people of the world will wear brightly colored costumes and wear lucky clover, celebrating the most important part of the Irish nation in the world. Traditional festivals - St. Patrick's Day. People at the festival admire exotic dances, reveling in the melodious Irish bagpipes. Irish culture and Guinness Stout and Bailey Liquor The perfect combination of wine and wine tastes the unique charm of St. Patrick's Day.